Strong trends create growth opportunities in our market
In the enterprise software sector, cloud-based SaaS solutions are estimated to achieve an approximate growth of 15 % globally in the next few years (Gartner), and cloud-based services are still rapidly gaining ground over traditional locally installed and license-based solutions. Factors accelerating the change include, among other things, the flexibility and scalability offered by cloud-based services, the increased efficiency of automation and remote access, changes in government services and legislation, increased supply and the development of new technological solutions, such as artificial intelligence.
Another trend supporting our growth is the historically somewhat weak development of productivity and low rate of digitalisation in our target sectors. The construction sector has particularly fallen behind other sectors in this regard over the past decades. This creates significant growth opportunities on the market for modern software solutions like Adminet and Tocoman, which automate routines, improve the efficiency of activities from the office to the worksite and facilitate information-based management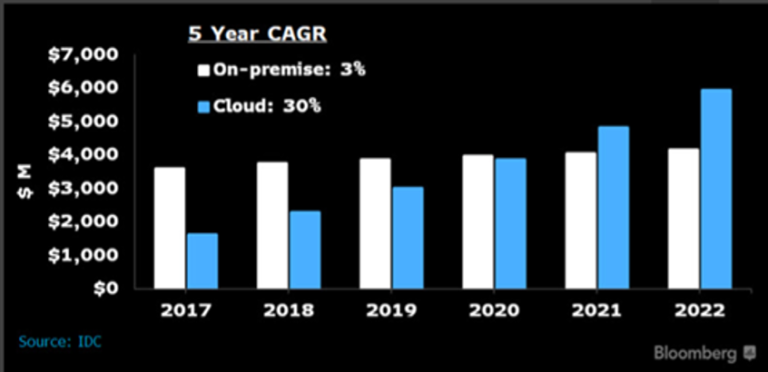 The growth of cloud-based solutions in enterprise software markets is estimated to be in the 30% range in the next few years, while local installations will grow by only about 3% at the same time.
Most comprehensive cloud-based solution in the field
The development of the enterprise software market is most rapid in cloud-based stand-alone systems, which are easy to implement but may pose challenges regarding their compatibility with other systems. The competitors on this sector typically consist of small local businesses. The most comprehensive stand-alone solutions can be used from work management to invoicing, while accounting and payroll are typically managed with a separate financial administration software solution.
In financial administration systems, cloud-based applications are no longer a fresh novelty, and instead developers have to offer great user experiences, automated interfaces and AI solutions to set themselves apart in the competition. The market is dominated by large operators. However,the calculation of costs and offers, as well as the monitoring of profitability for engineering and installations, construction and industrial projects and contracts often require a parallel system that can impede management and result in additional work for the company.
With ERP systems, the customer's choice is mainly affected by the specific characteristics of their sector, and the competition is fairly settled. A company that has used the same system for more than ten years is not a rare occurrence, and such systems are updated only infrequently. Admicom's ERP-service Adminet and the Tocoman software family together form a solution that fulfils the needs of businesses in the target sectors and seamlessly links activities ranging from the worksite and production to the office and accounting. Adminet and Tocoman software packages are cloud-based systems that are updated 5–7 times per year.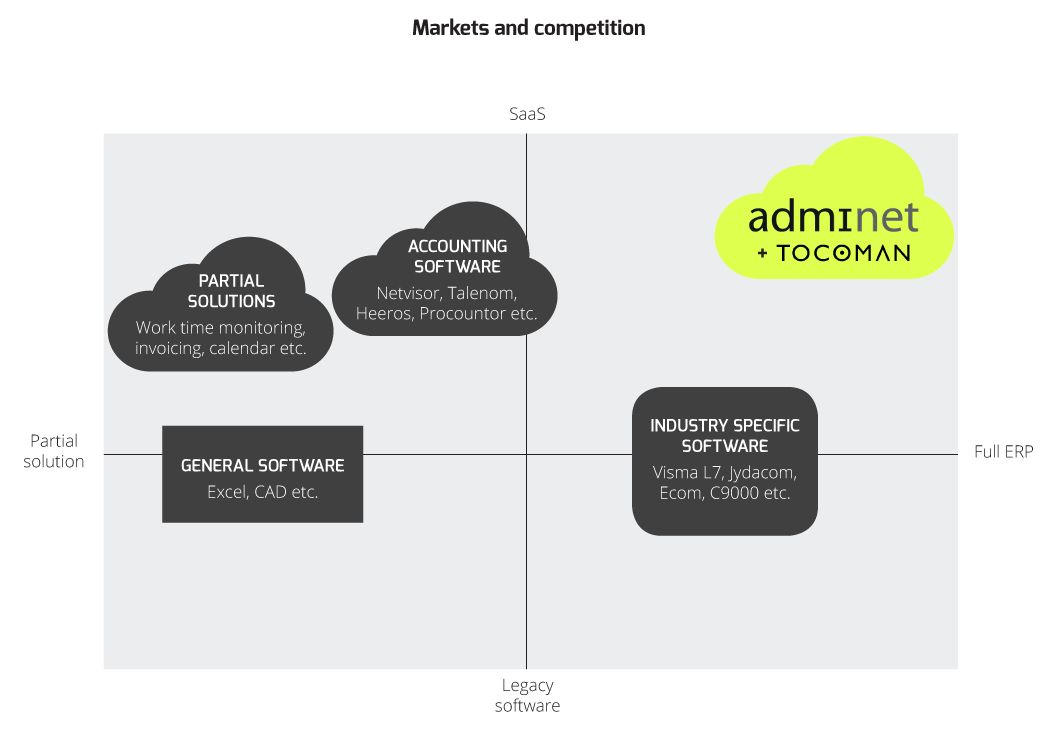 Targeting small and medium-sized companies
The current target market of Admicom comprises of small and medium-sized Finnish companies in the engineering and installations, construction and industrial manufacturing sectors. We estimate our overall market potential to 200 million euros. We are a market leader in our core target group in the sectors of engineering and installations and construction, but our share of the overall market currently only amounts to approximately 12%.
Our target market includes approximately 13,000 small businesses that have a turnover below one million euros, amounting to an estimated market potential of 44 million euros. In smaller businesses, management and supervision are typically handled alongside installation, manufacturing and construction activities. This usually restricts business growth, management and the entrepreneur's personal time management. Our concept for this target group is Adminet Lite, which is easy to implement, is highly automated and fulfils the specific needs of the sector in a cost-effective manner.
In our core target group consisting of medium-sized businesses with a turnover of 1–5 million euros, the need for efficient internal processes and management as well as up-to-date information is increased. To ensure that the company's processes, key personnel and management will not act as a bottleneck, the software solutions must be scalable and suitable for further development. Our concept for the core target group is Adminet, which is offered purely as a cloud-based service and is the most comprehensive solution on the market, covering the specific characteristics of the sector in a wide-ranging manner. The customer sectors comprising the core target group of Admicom includes approximately 3,800 companies in Finland, and they amount to an estimated market potential of 56 million euros.
The approximate number of relatively large companies with a turnover of 5–50 million euros in our target sectors is 1,800, and they amount to an estimated market potential of 100 million euros. At this size, software solutions that offer versatile functionalities, support business management, are integrated with the sector's key functions and enhance performance are typically critical factors of success. For this target group, Admicom and Tocoman offer a solution that comprises the most comprehensive set of applications and services, provides real-time visibility and highly automates routine tasks.
Admicom's core markets and market shares based on our own market data: